Imagine that you could keep every corner of your home at the perfect temperature year-round and yet save money. With a new Prodigy's One-Piece Insulated Siding System, you can do just that. The energy-efficient design delivers outstanding energy efficiency, thanks to the exceptional R-value (resistance to heat flow) – up to 1 1/2″ thick insulation for exceptional thermal performance. This high-density insulation combines with a beautiful and robust cedargrain vinyl panel, creating the ideal exterior for your home. The special features of this interlocking siding system achieve enhanced R-value for year-round energy savings and comfort, while allowing your siding to breathe freely to resist water retention.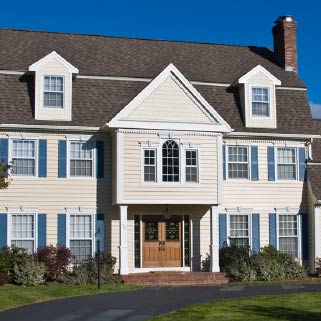 Prodigy One-Piece 
Insulated Siding System
At LEI Home Enhancements, our Prodigy One-Piece Insulated Siding System is form-fit to adhere to the outer panel for enduring strength, with no tearing or rattling, even in extreme winds. Homeowners are continually surprised at how affordable and attractive our siding systems are. With LEI Home Enhancements, you can rest assured that your newly installed Prodigy Siding System is engineered with:
Integrated 1½" thick EPS rigid foam insulation (nominal) helps reduce utility costs and reinforces the siding

Secure interlocking panel design provides a tight fit with no insulation gaps

Fully rolled over nail hem securely anchors panels to the wall

A Perm Rating of 5 allows moisture to escape and not get trapped inside
High density insulation minimizes outdoor noise

Insulation is treated with a nontoxic additive that discourages pests from nesting behind the siding

16'8″ extended length panel design does not require face nailing or caulking

Backed by a lifetime limited, transferable warranty* – including fade and hail protection.
Energy Efficiency
A Comfortable Home Year-Round Prodigy's Charter Oak delivers outstanding all-weather protection and can reduce your energy costs, thanks to the exceptional R-value of its industry-leading thermal barrier – up to 16″ thick insulation*. Energy Gap Protection With innovative features like RigidLock and TrueForm™ combined with a full line of insulated trim and accessories, Prodigy creates a blanket of insulation around your home.
Engineered Performance
One-Piece Insulated Siding System Precision-contoured insulation – up to 1½" thick* – bonds securely to the siding panel, creating an integrated system that delivers remarkable strength and energy efficiency. Secure Inter-Locking Panel Design Prodigy's innovative interlocking panel design provides a tight, secure connection between stacked panels. This ensures your siding will be securely locked in, have straight and even course lines, and look great for a lifetime. Structurally Independent Wall System Structural integrity and rigidly interlocking panels mean Prodigy stands tall on its own. The siding that stands on its own will stand up to almost anything.
Inspired Beauty
The Look of Hand Installed Boards Designed and expertly manufactured to capture the look of traditional plank siding. Available in double 6″ clapboard, double 5″ dutch lap and single 7″ profiles. More Panel, Less Seams 39% longer than a standard 12′ panel, the 16'8" Extended Length panel design provides fewer installation overlaps for a straighter, cleaner exterior finish. Crisp, Clean and Subtle We drew our inspiration from nature and designed Prodigy with a less-is-more sensibility. The look and feel of Prodigy is an important statement of credibility and taste. Crisp, clean and subtle, the appearance of finely milled wood attracts admiration without seeking attention. The understated look is timeless and genuine.